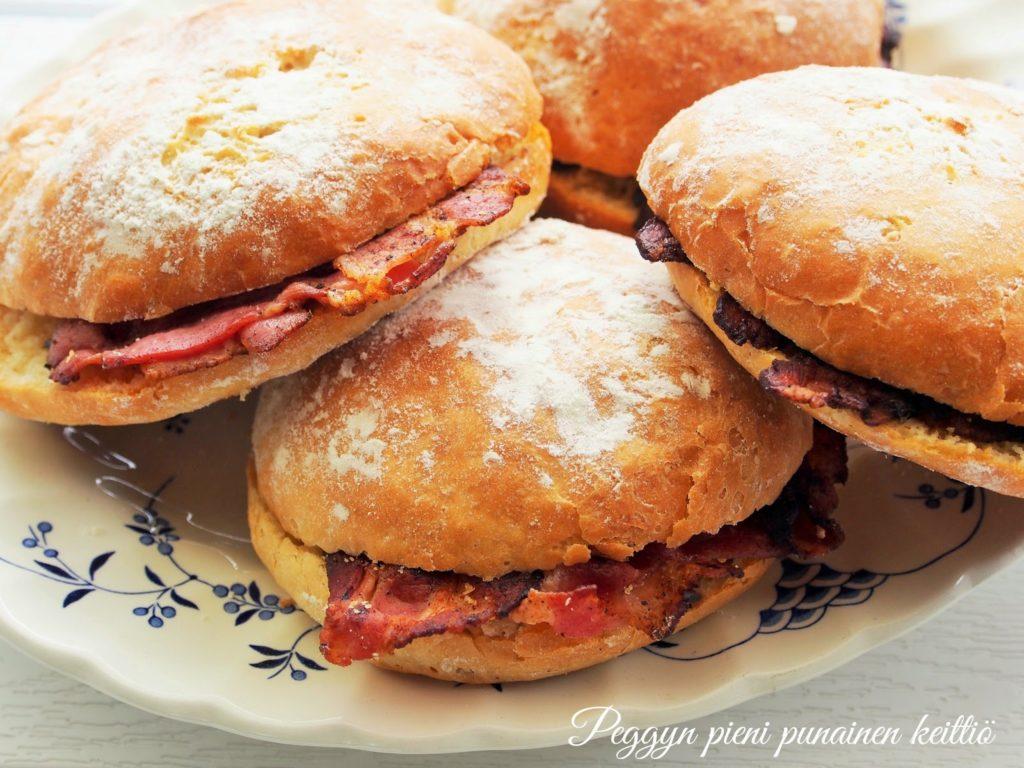 One of the most popular street foods in Britain is a bacon butty. A bacon butty is also one of our family's favourite treats on the weekend. A bacon butty consists of a crispy roll, butter, bacon and HP sauce. The butty's roll has a wonderful, crispy surface and the inside of it is soft and fluffy. Butter is spread inside the oven fresh roll, filled with bacon and then HP sauce is added on top. If you are a fan of bacon, you will not be disappointed!
Check out my new video on how to make bacon weaves and a delicious bacon butty!
Crispy "butty" rolls (6 pcs)
3 dl milk
11 g dry yeast
7 dl flour
1 1/2 tsp sugar
1 tsp salt
15 g melted butter
Warm the milk to +42 C. Add the dry yeast and sugar to the warm milk, and leave for 10 minutes.
While you are waiting, measure the flour and salt, place in a bowl and then mix together. Pour half of the contents into the warm milk and mix well.
Melt the butter. Add the melted butter and the rest of the flour, and kneed the dough.
Divide the dough into 6 equal parts, and then shape them into rolls.
Place the rolls on an oven tray, and then place a tea towel on top of the oven tray. Place the oven tray in a warm place for 1 hour to allow the rolls to rise.
Sprinkle a little bit of flour on top of the rolls and place them in the oven for 10 minutes at +225 C.
Take the rolls out of the oven and allow them to cool down without any tea towel on top.
Cut the rolls open and spread on the butter. Fill the rolls with bacon and then add HP sauce.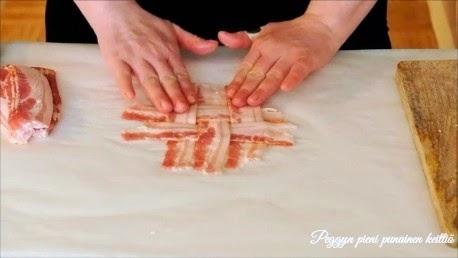 18 strips of bacon (6 bacon weaves)
Fry the bacon weaves in a hot frying pan until they are a beautiful golden brown colour.